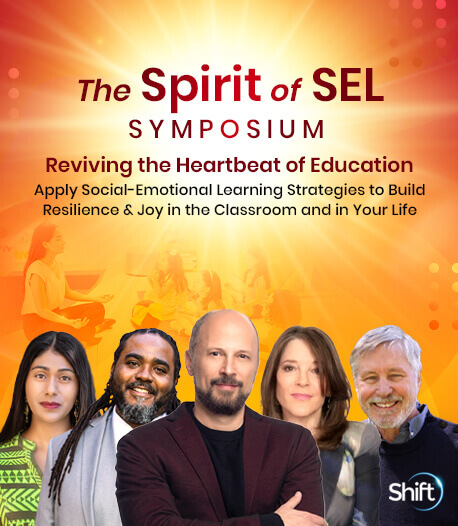 Program & Replays
Spirit of SEL Teachers Panel
Broadcast on February 11, 2023
With Alejandra Ramos Gómez, MEd & Sarah Sampson & Shelley Jeoffroy
Hosted by Daniel Sunshine
Join Sarah Sampson, Shelley Jeoffroy, and Alejandra Ramos Gómez, MEd; three extraordinary SEL expert educators as they shine light on best practices for integrating SEL into classrooms and schools. They also cover topics including the importance of teacher self care, their own self care practices and how SEL can be applied to modern challenges in the education system and society at large like the impact of COVID 19 and school shootings. Gain valuable insights as they share some of their favorite stories about weaving SEL into the classroom.
In this session, you'll:
Gain insights from three expert teachers on how to integrate SEL into your school
Explore self care practices for teachers to prevent burnout
Receive insights on how SEL practices can counteract the negative effects of COVID and other school challenges
The opinions expressed here are those of the author/presenter and are not representative of Shift Network employees, customers, or other presenters.
Love this Speaker and What They Have to Say?
It can be yours to keep... forever.
Get lifetime access to the summit and bonus material by upgrading now!
UPGRADE HERE
Alejandra Ramos Gómez, MEd
Author, Educational Consultant, Mindfulness Instructor
Alejandra Ramos Gómez is an author, speaker, and educational consultant born and raised in Juárez, México. She immigrated to Dallas, Texas, in 2014 to become a bilingual educator and is currently an Ed. M. Candidate at Harvard Graduate School of Education in their Human Development and Education Program with a concentration in Arts and Learning. 
Alejandra is the founder of We Are Poderosas, a bilingual social and emotional learning through the art venture for girls. She has collaborated as an art and educational consultant with organizations across the U.S., Argentina, Ecuador, and Mexico, including Wellness for Educators, Journeyman Ink, Galapagos Conservancy, the Mexican Secretariat of Public Education (SEP), and the United Nations Girls' Education Initiative (UNGEI). Further, she is certified in mindfulness instruction and served as a lead facilitator in Dallas Yoga Center's Mindfulness Certification Training (MCT) for educators and staff members. 
Ramos Gomez specializes in integrating artistic approaches, culturally responsive practices, identity development, and social-emotional learning in formal and informal education settings K-12. In her current role as a graduate student at Harvard Graduate School of Education, Alejandra works as a research assistant at the Ecological Approaches to Social Emotional Learning Laboratory. Additionally, she serves as an Identity Project Fellow at the Adolescent Ethnic Racial Identity Development Laboratory. 
Imperfecta, her debut bilingual poetry book, explores the intersectionality of the experiences of women, Latinas, and immigrants. Her multidisciplinary work appears in international media, including TEDx, NPR's Latino USA, Ms. Magazine, Better, Plan International, UNICEF, and Visible Magazine.
Sarah Sampson
SEL and Mindfulness Consultant
Sarah Sampson is a lead trainer and consultant for SEL for Education, an organization that provides trainings and consultation to schools and organizations using evidence-based Social-Emotional Learning and Mindfulness practices. 
As the former Social-Emotional Learning Facilitator for Keller ISD, Sarah led the district-wide implementation of SEL for over 34,000 students. 
Additionally, Sarah is the co-founder of The Mind-Body Ecology Institute, a non-profit that draws nature-based mindfulness and embodiment practices together to support inner sustainability to address the challenges of climate change, environmental degradation, and inequity.
Sarah is trained in MBSR (Mindfulness-Based Stress Reduction) through the UC San Diego Medical School. As a certified social-emotional learning, restorative practices, and embodiment teacher, Sarah has developed training, curriculum, and workshops to empower educators and humans of all kinds nationwide. 
Shelley Jeoffroy
Texas Teacher of the Year 2023
Shelley Jeoffroy is currently a 5th-grade math teacher at Otis Brown Elementary in Irving, Texas. She has formerly taught all subjects but predominantly math and science.  She attended graduate school at the University of Texas in Arlington for her education credentials, and she holds a Bachelor of Arts in English and biology from the same university.
In addition to the classroom, Mrs. Jeoffroy has served as a science curriculum and district assessment writer, science district presenter, mentor teacher, team lead for grades 4th and 5th, vertical team lead for math, Gifted and Talented Building Committee member, Language Proficiency Assessment Committee Representative, and Destination Imagination coach.  Ms. Jeoffroy lead a team of elementary students for a robotics program in which her young scholars won first place for the elementary level and second overall, including secondary age level teams!
Ms. Jeoffroy's professional development has included annually attending the Conference for and being a member of the Association of Science Teachers of Texas, the National Science Foundation, National Council of Teachers of Mathematics, and she was a participant in the Phil Mickelson ExxonMobil Teachers Academy.
Ms. Jeoffroy's career in education spans 18 years, with the past 16 years which includes the most diverse zip code in the United States.  During this time, she has also made educational contributions globally, serving students in Kenya, Peru, Mexico, and Morocco.
Ms. Jeoffroy is currently recognized as the 2023 Teacher of the Year for her home campus, district, Region 10 educational zone, as well as the state of Texas. In this role, she will represent all Texas educators and students as she joins a cohort of other state and U.S. territory TOYs as they travel the United States to promote educational equity and innovations.