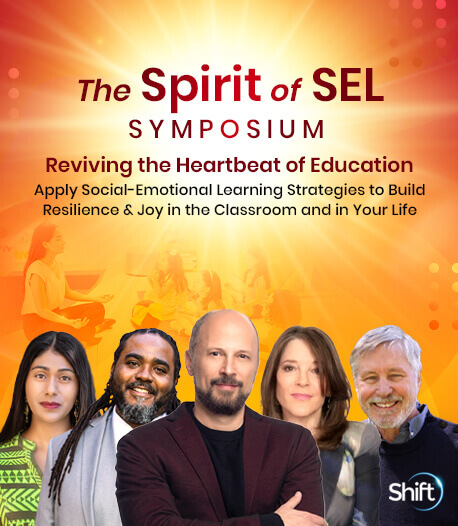 Program & Replays
Diversity, Equity, and Inclusion Through an SEL Lens Panel
Broadcast on February 11, 2023
With Alejandra Ramos Gómez, MEd & Hector Montenegro, EdD & Jamila Thomas
Hosted by Daniel Sunshine
Join Dr. Hector Montenegro, former Chief of Staff at DC Public Schools, Alejandra Ramos Gómez, MEd, Harvard School of Education graduate student and Identity Project Fellow at Harvard's Adolescent Ethnic Racial Identity Development Laboratory, and Jamila Thomas, CEO of Cultured Consulting Group and former head of Dallas ISD's African American Success Initiative, as they discuss strategies for educational leaders to facilitate a culture of belonging and create SEL based inclusive learning environments.
In this session, you'll:
Learn how to create an equitable and inclusive learning environment
Gain perspectives on how embracing diversity can empower the whole school
Garner critical adult skill sets needed to implement and sustain an SEL and DEI based school and classroom
The opinions expressed here are those of the author/presenter and are not representative of Shift Network employees, customers, or other presenters.
Love this Speaker and What They Have to Say?
It can be yours to keep... forever.
Get lifetime access to the summit and bonus material by upgrading now!
UPGRADE HERE
Alejandra Ramos Gómez, MEd
Author, Educational Consultant, Mindfulness Instructor
Alejandra Ramos Gómez is an author, speaker, and educational consultant born and raised in Juárez, México. She immigrated to Dallas, Texas, in 2014 to become a bilingual educator and is currently an Ed. M. Candidate at Harvard Graduate School of Education in their Human Development and Education Program with a concentration in Arts and Learning. 
Alejandra is the founder of We Are Poderosas, a bilingual social and emotional learning through the art venture for girls. She has collaborated as an art and educational consultant with organizations across the U.S., Argentina, Ecuador, and Mexico, including Wellness for Educators, Journeyman Ink, Galapagos Conservancy, the Mexican Secretariat of Public Education (SEP), and the United Nations Girls' Education Initiative (UNGEI). Further, she is certified in mindfulness instruction and served as a lead facilitator in Dallas Yoga Center's Mindfulness Certification Training (MCT) for educators and staff members. 
Ramos Gomez specializes in integrating artistic approaches, culturally responsive practices, identity development, and social-emotional learning in formal and informal education settings K-12. In her current role as a graduate student at Harvard Graduate School of Education, Alejandra works as a research assistant at the Ecological Approaches to Social Emotional Learning Laboratory. Additionally, she serves as an Identity Project Fellow at the Adolescent Ethnic Racial Identity Development Laboratory. 
Imperfecta, her debut bilingual poetry book, explores the intersectionality of the experiences of women, Latinas, and immigrants. Her multidisciplinary work appears in international media, including TEDx, NPR's Latino USA, Ms. Magazine, Better, Plan International, UNICEF, and Visible Magazine.
Hector Montenegro, EdD
CEO, Montenegro Consulting Group
Dr. Hector Montenegro, President/CEO of Montenegro Consulting Group, LLC, former Senior District Advisor for the Collaborative for Academic, Social, and Emotional Learning (CASEL). Currently works with districts and administrators nationally and internationally on systemic implementation of SEL. He is also a Senior Associate for Margarita Calderon and Associates (MC&A) and provides training on instructional strategies for English Learners (ELs), leadership development, language and literacy, instructional coaching, and parent engagement.
Dr. Montenegro has been a math teacher, principal, Chief of Staff for the DC Public Schools, and Superintendent of three school districts in Texas. He is an internationally recognized speaker and presenter of 100s of workshops, leadership development seminars, retreats, keynote speeches, and webinars on SEL and on effective instructional strategies throughout the US and abroad in over 23 countries. He has been an educational advisor to Chile, Peru, Guatemala, and Saudi Arabia through the U.S. State Department and Ministries of Education.
He also serves on several national boards including New York City's The Leadership Academy (TLA), Transformative Educational Leadership (TEL board chair), and the Parent-Teacher Home Visits (PTHV) program. Dr. Montenegro was one of the founding members of the Association of Latino Administrators and Superintendents (ALAS) and served as the Co-Academic Administrator of the ALAS Superintendent's Leadership Academy (SLA). He is a volunteer for the Fruit Tree Planting Foundation working on projects in Brazil, El Salvador, Peru, Guatemala, and Uganda. He obtained his master's from Stanford University and his doctorate from the University of Texas at Austin.
Jamila Thomas
Founder and Chief Executive Officer, Cultured Consulting Group
Jamila Thomas is a 2019 Presidential Leadership Scholar appointed by the Presidential Centers of William J. Clinton, George H.W. Bush, George W. Bush, and Lyndon B. Johnson. She is a native of Dallas, Texas and a graduate of Florida A&M University, located in Tallahassee, Florida. She received her undergraduate degree in Business Administration and a graduate degree, Masters of Business of Administration (MBA). She also has Master of Arts degree in Divinity from The University of Chicago Divinity School. She is currently pursuing her PhD in Leadership Studies at Dallas Baptist University. In 2018, at the direction of Dallas Independent School District Board of Trustees, Jamila created and established the Racial Equity Office for Dallas ISD. In this capacity, she was responsible for developing culturally responsive policies and programs designed to close the achievement gap and simultaneously build culturally intelligent practices for all faculty and staff. In addition, Jamila was instrumental in guiding the Texas State Board of Education towards the historic and unanimous statewide adoption of the African American History course.  As a result of her success, Jamila founded Cultured Consulting Group. Her company provides strategic consulting, professional development, and policy development to for profit, non profit, educational, and governmental agencies.