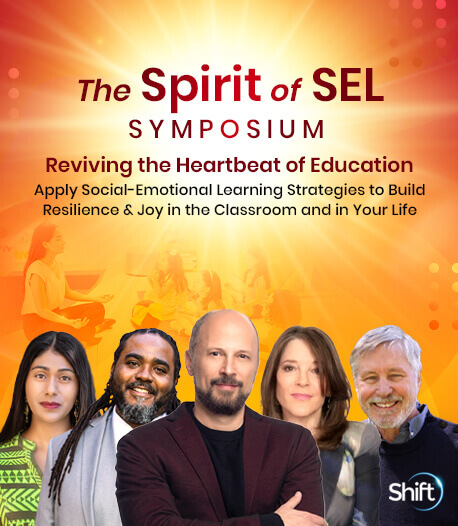 Program & Replays
Educating Students About The Planet Through An SEL Lens
Broadcast on February 12, 2023
With Blake Hestir & Kirsten Rudestam, PhD & Sandy Koi, MSc
Hosted by Daniel Sunshine
Join Blake Hestir, Texas Christian University philosophy professor and Executive Director of the Mind, Body, Ecology Institute, Dr. Kirsten Rhudistam, environmental educator and co-founder of the Sati Center's Buddhist Eco-Chaplaincy Program, and Sandy Koi, MSc, environmental educator, and South Florida ecologist, as they discuss key principles of educating students about the planet through an SEL Lens. This panel addresses topics including outdoor education and the impact of living in a virtual world.
In this session, you'll:
Discover how the natural world benefits emotional wellbeing and physical health for students
Explore the concept of "the extinction of experience" and tools for disconnecting from technology and reconnecting to the earth
Learn to integrate nature based curriculum and learn about the art of flourishing
The opinions expressed here are those of the author/presenter and are not representative of Shift Network employees, customers, or other presenters.
Love this Speaker and What They Have to Say?
It can be yours to keep... forever.
Get lifetime access to the summit and bonus material by upgrading now!
UPGRADE HERE
Blake Hestir
Director/co-founder of The Mind Body Ecology Institute, Professor of Philosophy
Blake Hestir (he/him) lives in Fort Worth, Texas, the sacred ancestral land of the Wichita and Affiliated Tribes. He is interested in how our own flourishing and the flourishing of Mother Earth are closely interwoven. His research explores how sustainable inner transformation may be cultivated through intellectual inquiry combined with nature-based mindfulness and embodiment practices, helping to deepen understanding of ourselves and our ecological interdependence, and to promote belonging and collective flourishing.
He is finishing a book, Are We Experiencing? Climate Change, Sustainability, and Flourishing, which integrates work in the philosophy of mind and ecology with insights from the Mahayana philosophical traditions and the world's Indigenous wisdom-keepers. He is also author of Plato on the Metaphysical Foundation of Meaning and Truth (Cambridge, 2016).
Blake serves as professor of philosophy and the associate director of CALM Studies at TCU in Fort Worth, TX. He and "Choke," Sarah Sampson, and Alex Julie, are directors of The Mind Body Ecology Institute whose mission is to help to empower the global community for a more socially, spiritually, and ecologically harmonious world. MBEI is dedicated to creating a culture of belonging and inspiring people to think more deeply about the global issues we face and our relationship with nature.
He enjoys teaching, nature wandering, meditation, playing guitar, storytelling, and dancing, and has journeyed throughout the world listening deeply.
Kirsten Rudestam, PhD
environmental educator, meditation teacher, deep nature connection mentor
Kirsten Rudestam, PhD., works as an environmental educator, wilderness guide, and meditation teacher. She believes that practices of (re)connection are crucial in maintaining our capacity to face and respond to ecological loss and to embrace our inherent interbeing. Her research examines the relationship between environmental policies and everyday behaviors; specifically, how ideas about nature are formed, the conflicts they produce, and how they enable or disable particular forms of participation.
She has taught and published in the areas of sociology and environmental studies and has specific expertise in water politics. Kirsten has been practicing meditation since 1997 in the Theravada/vipassana (Early Buddhist) tradition and has taught for Insight Santa Cruz, Mountain Stream Dharma, and the Insight Meditation Center. In 2017 she co-founded and remains core faculty for the Sati Center's Buddhist Eco-Chaplaincy training program, a training developed to support people in developing healthy, compassionate, and mutually supportive relationships with each other and the earth. She has also trained as a nature-based rite of passage guide, is a facilitator for Joanna Macy's Work That Reconnects, and has over twenty years of experience teaching and designing curriculum for colleges and universities, environmental field courses, and nature-based meditation programs.
Sandy Koi, MSc
Art of a Spiritual Nature, founder, Ecologist, Entomologist, Artist
Sandy Koi is a doctoral candidate at Florida International University where she also teaches Everglades Ecology; her advisor, Dr. Hong Liu, is a highly respected botanist and orchid expert. Sandy has been researching the Atala, a rare and at-risk butterfly for over twenty years, as well as its host plants and pollinators. In addition, she works closely with citizen scientists who are involved in the recovery efforts for endangered butterflies and offers hands-on experiences for elementary school children about insects, plants, and the environment at various South Florida schools. She has been an adjunct biology professor at Nova Southeastern University, as well as an entomologist for the Institute for Regional Conservation and other NGOs. She earned a Master's degree in Entomology from the University of Florida, and has a Bachelor's degree in Environmental Science and Biology from Nova Southeastern University; her scientific publications include current research on the Atala butterfly (Eumaeus Atala), an imperiled South Florida species, as well as other endangered and threatened invertebrate biota. She also has an undergraduate degree in Fine arts, which she uses to promote awareness in her classes for children. She is also certified in Primordial Sound Meditation, as well as other meditative practices.
Sandy continues to spearhead an assisted relocation project for the Atala butterfly, which was once thought extinct, from eruption sites into suitable new sites in Southeast Florida. She is a member of the Xerces Society for Invertebrate Conservation, active in the North American Butterfly Association (NABA), and coordinated butterfly surveys for the Florida Natural Areas Inventory (FNAI). She is a contributing member of the Imperiled Butterfly Working Group (IBWG), under the authority of the Florida Fish and Wildlife Conservation Commission, as well as the Pine Rockland Work Group, dedicated to protecting what remains of our highly endangered natural pine Rockland ecosystems.